The Prescott Staircase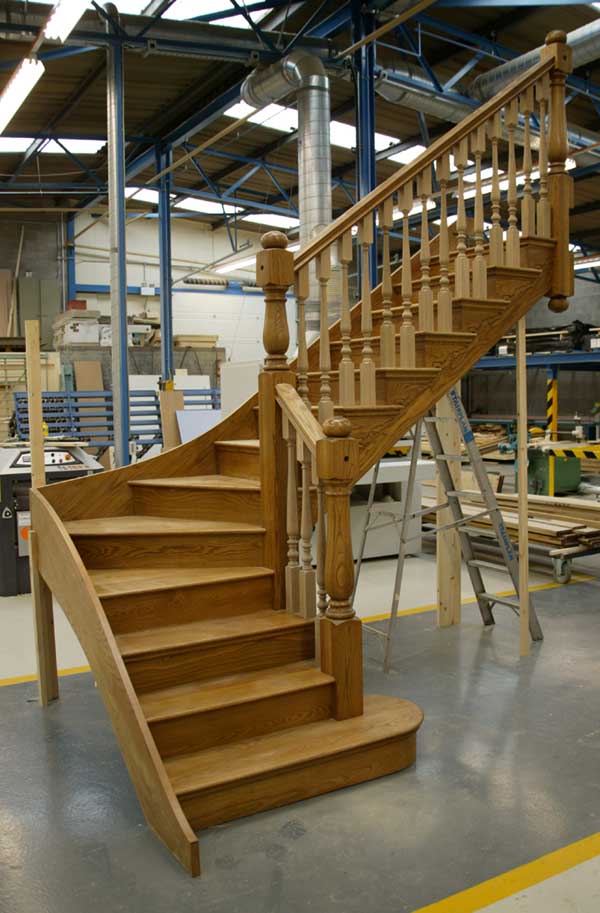 At Stairplan aswell as our standard specification made to measure staircases we can also offer Bespoke high specification staircases, This Oak Cut string staircase has Bespoke 56mm spindles, Bespoke 140mm Newels and a Bespoke section handrail.
On this staircase we have also put some detailing into the Cut string bracket.
The Spindles are specialy turned with 2 different turning lengths to follow the pitch of the staircase along the handrail line and stay level with the treads at the bottom.
This staircase has also been made with a shallower pitch than the maximum 42 degree pitch allowed by Building regulations. The Pitch is around 38 degrees, it is far more comfortable to walk up than a standard staircase, if you are planning a self build project it may be an idea for your Architect to allow for this when laying out your stairwell, too many people try to squeeze staircases in to tight spaces and 42 degrees and not enough thought is put in about the comfort of walking up the staircase.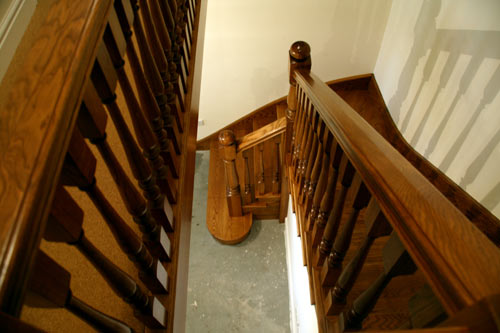 This staircase has many Bespoke features and was built to a no expence spared specification all the Oak was selected to the highest standards and many of the details are individual to this staircase from the Profiles of the Handrail and Baserails to the Spindles to the Scotia below the treads.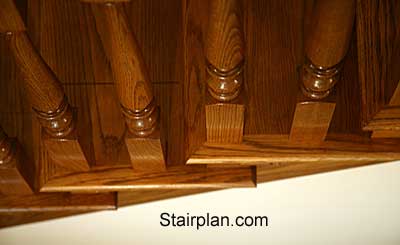 This photo shows the Return nosing detail - All our Cut String staircases have a Traditional Return Nosing as shown.
This staircase was finished with a Medium Oak colour - (Stairplan dont get involved with the finish of the staircase)
The size of the spindles and newel posts sets the quality of this staircase apart from most staircases.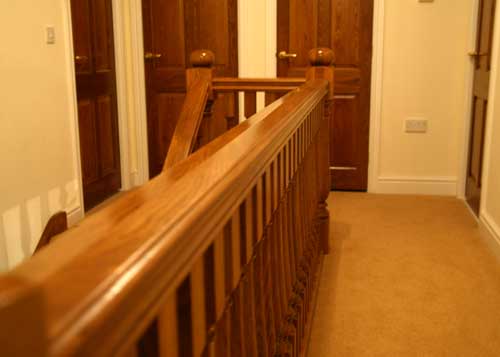 The landing area here shows the doors in the property are also in Oak.
Oak offers beautiful details in the grain that cannot be expressed when other timbers are used and then stained down to look like Oak or another hanrdwood.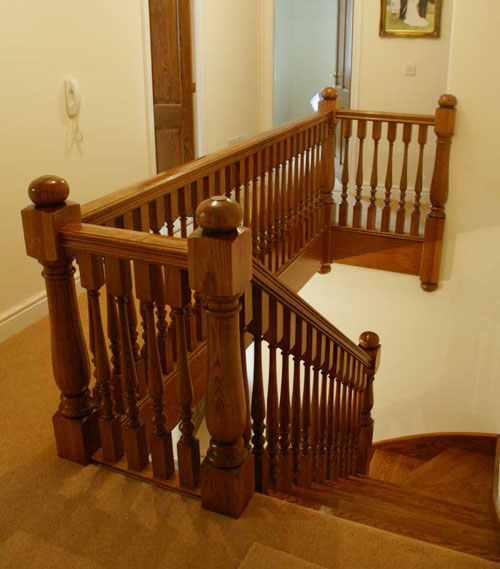 Due to the high expence of this staircase we have tried to standardise some of the features from this staircase if you have a look at the Newel posts and spindles on the Prescott Flaired staircase we have recently produced you will see slight changes in the details.