Oak Cut String Staircase
This staircase is a Oak Cut String Staircase the layout of the stair would be classed as a quarter landing staircase (you can see the third tread is a level platform). The first step on this staircase is a Curtail Step - Look on Entry Steps . The detail on the handrail at the entry is called a Volute we now also produce a ascending volute. You can see some clse up images showing the cut string detail Image 1 - Image 2 .
Oak Staircases with Glass Balustrading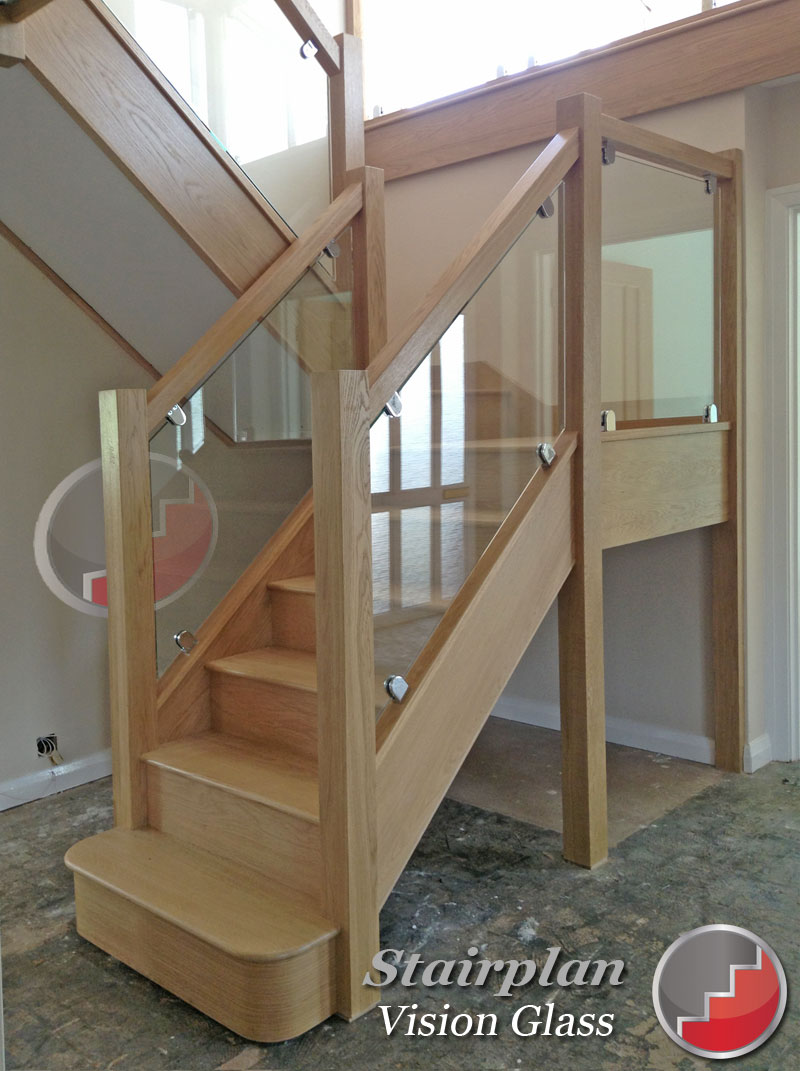 We manufacture a wide range of staircases with Glass balustrades - Here you can see an Oak closed staircase with our Vision Glass Balustrading system with Brackets. We also offer the balustrade parts on there own. Vision Glass Balustrade Parts Oak SQHR Handrail, Oak SQBR Baserail, Select Oak Newel posts . The Glass Brackets are the SV-BRAC glass clamps.
The X-Vision Staircase
For those looking for the ultimate in oak staircases we offer the X-Vision Staircase - available to see at stairplan in Telford . High Quality EdgeLam Oak construction
External Staircases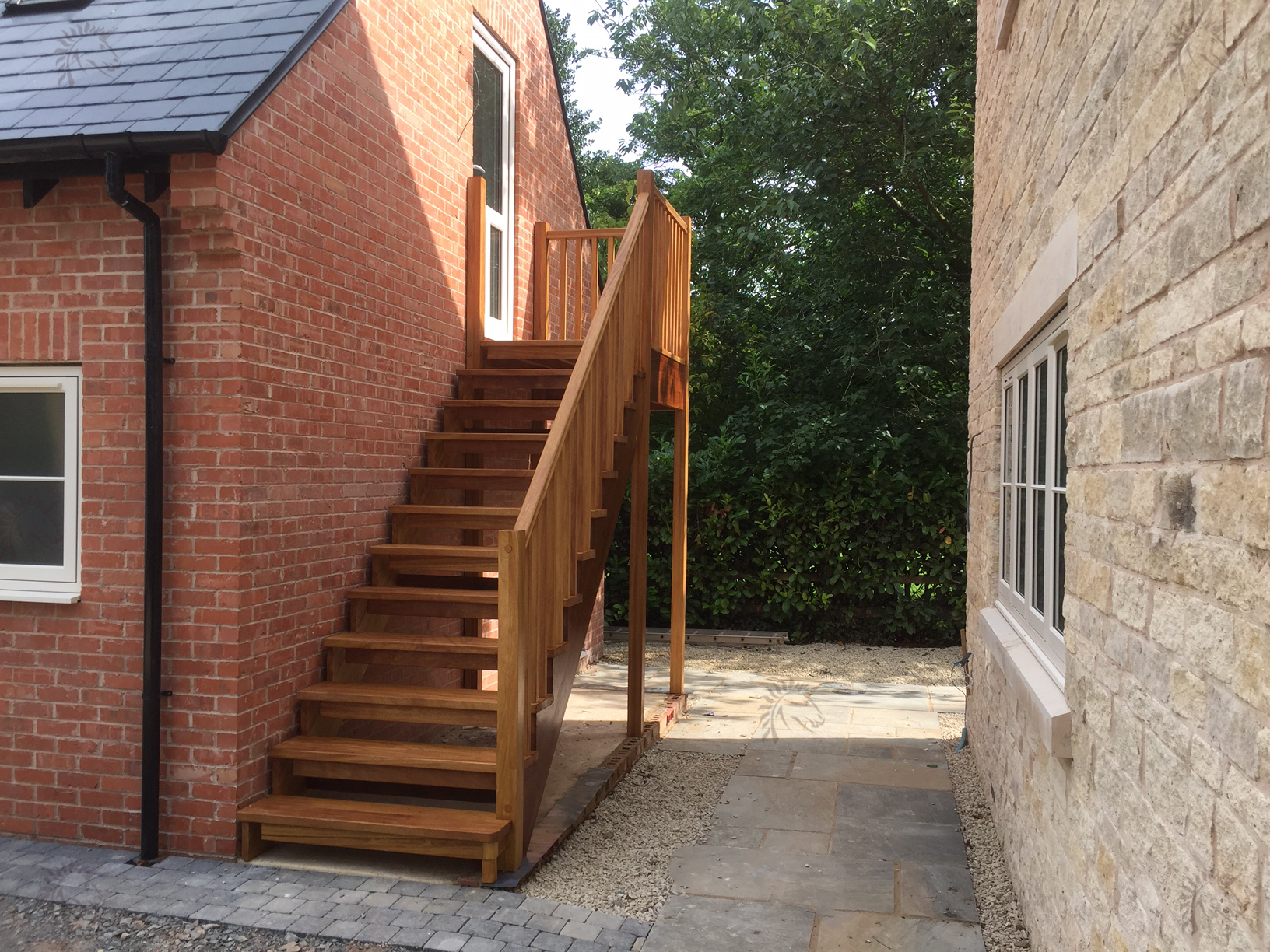 Above you can see a External Staircase we produce staircases for use outside in a Iroko Hardwood. We use Iroko on our exterior staircases due to its high resistance to rot and insect attacks. For more information click here
The Marion Staircase
Contemporary Staircase design - Chunky Oak Treads and Risers with a cunky face string and frameless glass balustrade.
The Marion Staircase offers a quality contemorary staircase solution to compliment the modern home.
Z Form Winder Staircase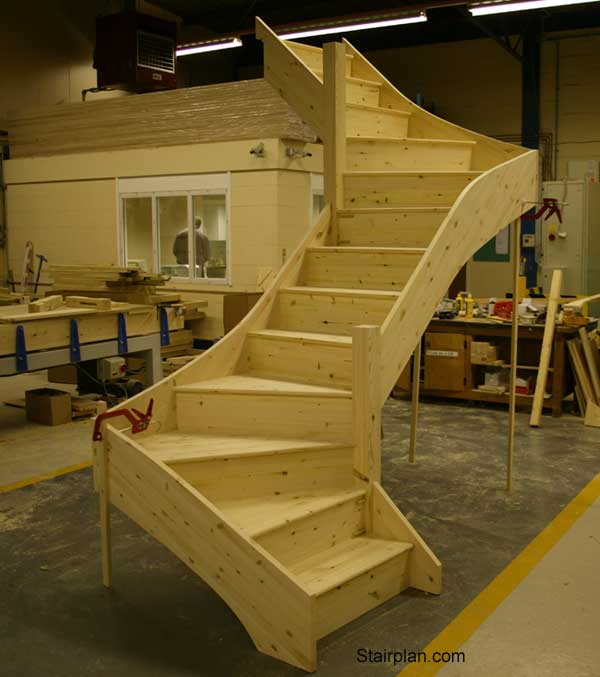 This staircase is a Winder staircase in Engineered Pine it is classed as a Z Form because the staircase turns both ways (Right and then Left) The strings on this staircase are classed as closed Strings. This Staircase is going to be installed between walls.
Specification
Strings - Engineered Pine
Treads - Engineered Pine
Risers - Engineered Pine
Newel Posts - Pine
More Images - Image 1 - Image 2.
Oak Openplan Staircase - European style Handrail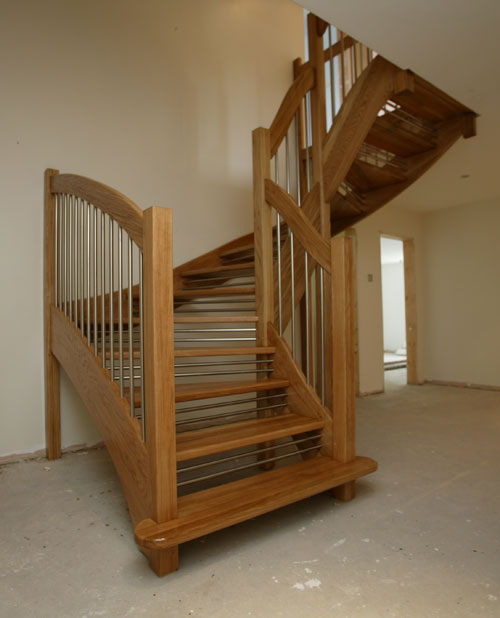 This staircase is a Openplan staircase in Oak the style of the handrail is our European style handrail, The following pages will give you more detail - More on this staircase - Openplan Staircases. | New style European Baluster

Oak Staircase with the European Style handrail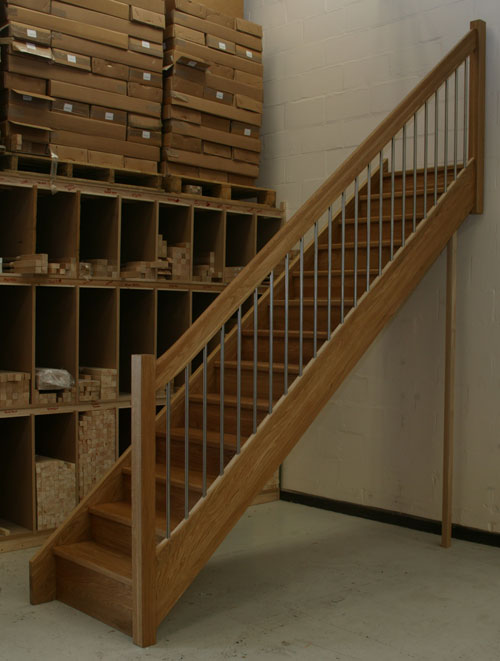 This is a closed staircase again in Oak with the European style handrail for more information click here | New Style european Baluster
This Premium Oak Staircase has 40mm Oak Stair Strings | 40mm Oak Stair Treads and 18mm Oak Stair Risers. The Handrail is Stairplan's European Handrail System with Stainless Steel Staircase Balusters.
All of our staircases are pre-assembled prior to dispatch to ensure quality at all times.
All staircases are assembled as far as possible for delivery and installation unless ordered flat-pack.
The Washington Staircase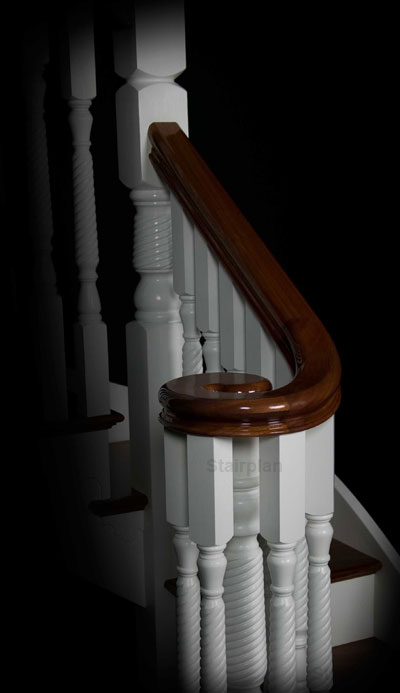 The Washington staircase - White with dark hardwood Treads and Handrail - Washington twist spindles. Ascending Volute handrail detail
How to get a quick quote ?
If you can identify a staircase that is similar to what you are looking for from our online library of staircase plans we can give you a price over the phone based on that particular staircase layout and the material specification you require.
Staircase Plans.